Cellulite is a very common condition that affects up to 90% of women regardless of their size or weight and makes areas of fat on the skin appear lumpy and dimpled. There are many factors that can affect a woman's cellulite development, including low-grade inflammation, genetics, hormonal changes and areas of restricted blood flow.
The dimpling of cellulite is caused by fibrous septae underneath the skin. Cellulite appears when areas of the skin (commonly around the buttocks, thighs and hips) are pulled down to deeper tissue levels, creating an uneven and bumpy surface. The pulling on the skin creates a hardening of the connective fibrous septae, which is made of collagen. The septae begins to harden and contract over time and eventually leads to lymphatic blockage in the blood vessels, producing the caved in, dimpled appearance of cellulite.
Reviews
"Been with Dr Jansen for four years. He was a great dr to have on my side."
- R.D. /
Healthgrades /
Sep 19, 2019
"Top notch service. I felt so taken care of throughout the whole process."
- E.S. /
Google /
Apr 03, 2023
"Dr Tandon and his entire staff are wonderful. They make you feel at ease, explain everything, and answer all your questions and concerns. You are never rushed and treat you with respect."
- M.G. /
Google /
Mar 21, 2023
"Very professional and nice physician and RN. Dr. Tandon did an excellent job with my plastic surgery!"
- W.R. /
Google /
Jan 01, 2023
"I can't say enough positive things about Dr.Ravi Tandon. He made me feel my very best when I was at my absolute worst. He is so compassionate, understanding, caring, and thorough, and makes you feel like a person, not just another patient. His surgical experience is like none other. He did my breast reconstruction surgeries and his work is pristine! My other doctors are always complimenting his work. He is an amazing person and doctor. I promise you won't find anyone better than him. Dr.Ravi Tandon is the best and I would recommend him to anyone. He always goes above and beyond for his patients. I love him and his staff!"
- K.H. /
Google /
Nov 14, 2022
Previous
Next
How does QWO work to reduce cellulite?
QWO cellulite treatment (collagenase clostridium histolyticum-aaes) works by addressing the underlying cause of cellulite. During the treatment, an active enzyme called collagenase is injected directly into the targeted area (the cellulite dimple), which initiates a process called Enzymatic Subcision and Remodeling (ESR). The ESR process degrades cellulite-causing collagen molecules chemically by releasing enzymes that target collagen types 1 and 3. This process releases the septae (that is responsible for cellulite dimples) while simultaneously stimulating collagen production, resulting in firmer and smoother skin.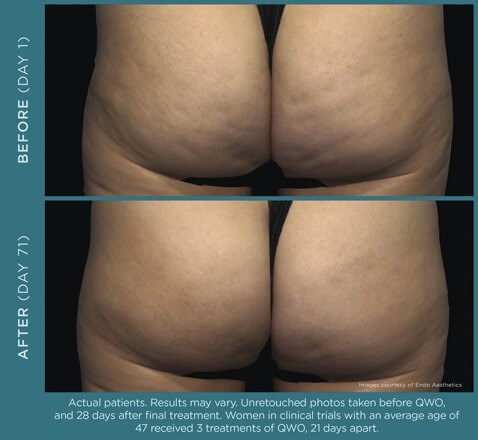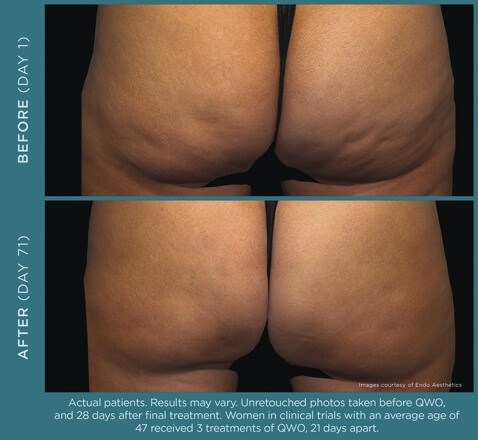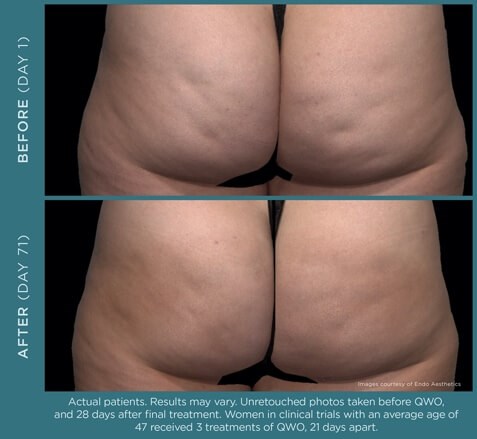 Is QWO safe to treat cellulite?
QWO is a generally safe, effective, FDA-approved treatment. Mild side effects of QWO are injection site-related and typically include bruising and sensitivity in the treatment area. Side effects are temporary and do not affect the outcome of the treatment.
There is little downtime required with QWO; the treatment is non-surgical and does not require any general anesthesia. You can return to your normal daily activities after the treatment. However, we advise you not to perform any strenuous activities for a couple of days following the treatment.
How long do QWO results last?
The results from QWO can last from one to five years and varies depending on the patient.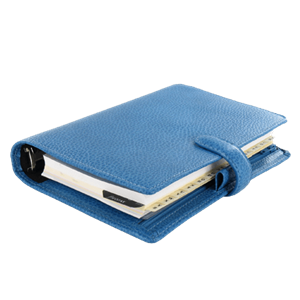 How do I know if I am a candidate?
As of now, QWO is only FDA-approved for women. If you are experiencing stubborn fat on the buttocks, you may be a good candidate for QWO.
During a QWO consultation, you will meet with our expert Medical Staff where we go over your medical history, talk about your concerns and let you know what type of results you can expect from QWO.
IMPORTANT SAFETY INFORMATION
WHAT IS QWO®?
QWO is a prescription medicine used to treat moderate to severe cellulite in the buttocks of adult women.
IMPORTANT SAFETY INFORMATION
Do not receive QWO if you: are allergic to collagenase or to any of the ingredients in QWO, or have an active infection at the treatment area.
QWO may cause serious side effects, including:
Allergic (hypersensitivity) reactions, including anaphylaxis. Call your healthcare provider right away if you have hives, trouble breathing, low blood pressure, swollen face, chest pain, dizziness or fainting after receiving QWO;
Injection site bruising
Before receiving QWO, tell your healthcare provider if you:
have a bleeding problem
are pregnant or may become pregnant, nursing or plan to nurse. You and your healthcare provider should decide if you will receive QWO or breastfeed.
Tell your healthcare provider about all the medicines you take, including prescription and over-the-counter medicines, vitamins and herbal supplements. Especially tell your healthcare provider if you take a medicine that prevents the clotting of your blood (antiplatelet or anticoagulant).
The most common side effects of QWO include: injection site bruising, pain, areas of hardness, itching, redness, discoloration, swelling and warmth in the treatment area.
These are not all the possible side effects of QWO. Call your healthcare provider for medical advice about side effects. You are encouraged to report side effects of prescription drugs to the FDA at www.fda.gov/medwatch or 1-800-FDA-1088.
Click for Full Prescribing Information including Patient Information for QWO.